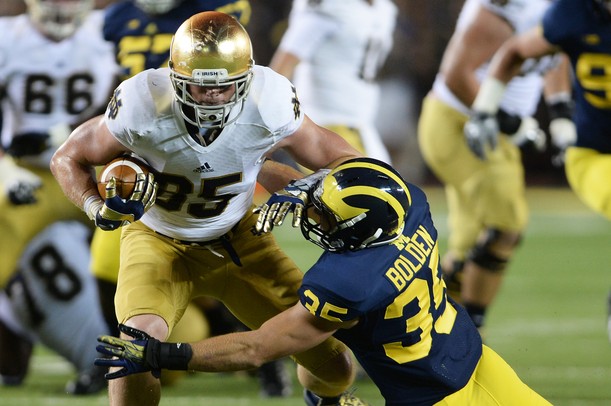 Notre Dame QB's: Despite Everett Golson being gone for this season due to a suspension, Notre Dame has the 17th ranked pass offense nationally. While Tommy Rees did throw 2 costly interceptions in the loss to Michigan, he still has done a decent job this season with 60.8 completion percentage on 45 completions and 74 attempts. In addition, he has thrown for 660 passing yards and 5 touchdowns and 2 interceptions. Andrew Hendrix has appeared in both games as well this season and has only completed 1 of 5 passes for 9 yards, but appeared in the final drive in the first game and for one play against Michigan when he attempted a long pass in the closing seconds of the first half.
Notre Dame QB's vs. Purdue Pass Defense: Purdue has the 71st ranked pass defense that has allowed 3 passing touchdowns and opponents to complete 65.7 percent of their passes. Purdue has allowed 46 completions on 70 attempts. They have allowed 460 passing yards total or 230 yards per game, and a 10 yard per catch average as well. Considering the options that Tommy Rees has in Troy Niklas, TJ Jones, DaVaris Daniels, Chris Brown and more, this gives the Irish a considerable advantage and a great opportunity for Tommy Rees to bounce back from throwing 2 interceptions.
Edge: Notre Dame
Purdue QB's: Rob Henry has been the only quarterback to have any passing numbers this season with a 55.9 yard completion percentage and has completed 33 out of 59 passing attempts. He has thrown for only 311 yards, has thrown 2 interceptions, zero passing touchdowns, and has a long of just 29 yards. Henry also has 8 rushing yards and 1 rushing touchdown as well. His backups are young with Austin Appleby and Danny Etling who are redshirt freshman and true freshman, respectively and neither have any game stats so far.
Purdue QB's vs. Notre Dame Pass Defense: The Irish are ranked 89th in pass defense and haven't done as well as the 2012 unit thus far. They have allowed an average of 261 passing yards and opponents average close to 12 yards per completion and 4 touchdowns. Rob Henry hasn't looked good this season at all and this could look well for the Irish to have their best game of the season when it comes to defending the pass.
Edge: Notre Dame
Notre Dame RB's: Amir Carlisle has the lead in terms of rushing yards with 132 rushing yards on 19 carries and has a 6.9 yard average per rush, and also has the team's longest running play with it being a 45 yard run. George Atkinson III has 71 rushing yards on 13 carries with 1 rushing touchdown and a 5.5 yard average. However, he has struggled a bit with catching the ball and had quite a few missed receptions in the loss to Michigan. Cam McDaniel has 69 yards on 13 carries as well with a 5.3 yard average. Greg Bryant and Tarean Folston only appeared against Temple so far and have 14 and 12 yards so far. Will Mahone missed the Temple game with injury and did not play against Michigan, but could see playing time against Purdue.
Notre Dame RB's vs. Purdue Rush Defense: Purdue's rushing defense is ranked 50th in the nation and has allowed 130 yards per game and only 3.8 yards a rush. However, they have allowed 4 touchdowns on the ground. Notre Dame comes in with just the 79th ranked rush offense, but does have a 5.2 yard average a rush and 1 rushing touchdown overall. Notre Dame should try to run the ball more and be balanced, and should try to play each of the running backs so they are able to get some playing time and experience as well.
Edge: Even
Purdue RB's: Akeem Hunt is the leading rusher for the Boilermakers with 103 rushing yards on 29 attempts and a 3.6 yard average. Dalyn Dawkins has 61 rushing yards, a 4.1 yard average, and on 15 carries. Receiver B.J. Knauf has made his contribution to the running game with 43 yards on 7 attempts with 1 rushing touchdown and a 6.1 yard average per rush.
Purdue RB's vs. Notre Dame Rush Defense: Purdue's rushing offense is ranked 104th overall with 99.5 yards per game, and the team is averaging just below 3 yards a carry. Notre Dame is ranked 62nd in rushing defense and has allowed 150 yards per game. The Irish should be able to have their best showing in the run defense department of the season so far against Purdue, who is one of the lowest ranked teams in rushing yards per game. Containing the ground game will be crucial and the Irish should be able to keep Purdue below 100 rushing yards.
Edge: Notre Dame
Notre Dame WR's and TE's: This has been one of the strong spots for the Irish. TJ Jones leads the Irish in receptions and yards and so far has 15 receptions for 232 yards. He also has a 15.5 yard average per catch and 1 receiving touchdown. Troy Niklas has been a real surprise for the Irish with 7 catches for 142 yards and a team-leading 20.3 yards per catch, and he also has 2 touchdowns as well. DaVaris Daniels has been great too with 7 receptions, 132 receiving yards, and 2 touchdowns. Chris Brown had improved on his 2012 numbers against Temple alone and has 6 catches for 85 yards. C.J. Prosise and Corey Robinson had their first career receptions against Michigan for 16 and 12 yards, respectively.
Notre Dame WR's and TE's vs. Purdue DB's: Purdue's most experienced members of the secondary are cornerback Ricardo Allen and safeties Landon Feichter and Taylor Richards. The unit has allowed a 10 yard per catch average and 3 passing touchdowns. Despite the experience the Boilermakers have, they have a challenge in handling Notre Dame's deep receiving unit that has four players as the main targets and others who can step up.
Edge: Notre Dame
Purdue WR's and TE's: Not a single player has caught a touchdown amongst the receiving unit of Purdue. Gabe Holmes, a tight end, has a team-leading 9 catches for 69 yards. However, Gabe Holmes was injured in practice this week and that will have a major impact on the Boilermakers offense. Shane Mikesky has 4 catches for 43 yards, Gary Bush has 4 catches for 14 yards, and B.J. Knauf has 2 catches for 25 yards. The top two running backs have actually had a couple of the most important contributions to the receiving game with Dalyn Dawkins having 4 catches for 52 yards and Akeem Hunt with 3 receptions for 43 yards.
Purdue WR's vs. Notre Dame: With the unremarkable numbers by Purdue's receivers, things look better for the Irish secondary that should be able to bounce back from allowing 4 passing touchdowns. Gabe Holmes had been the main target and the next receiver after him had less than half the amount of receptions as he does. Notre Dame needs to be prevent the large chuck plays and the deep ball to win this matchup. Consistency is major need out of the Irish secondary for this game and for the rest of the season. Look for the Irish to also bounce back and contain this unit.
Edge: Notre Dame
Notre Dame OL: The offensive line has done well in giving Tommy Rees time to pass and has allowed only 2 sacks and 9 tackles for loss. The run blocking has been good with a 5.3 yard average. The unit has also been one of the stronger areas for the Irish this season so far.
Notre Dame OL vs. Purdue DL: The front four of the Purdue defense is a strength and all 6 of the Boilermakers sacks were by defensive lineman. Purdue is able to get into the backfield as well with 10 tackles for loss this season. The battle in the trenches might be the most important matchup in this game between these units. The Irish need to have their best pass and run blocking while keeping opposing defenders out of the backfield.
Edge: Even
Purdue OL: The offensive line came into this season with a combined 52 career starts and had 3 starters. Run blocking has been poor with 2.9 yards per rush, and they have allowed 3 sacks and 9 tackles for loss this season so far. The unit is primarily seniors starting with 4 of 5 starters being a senior.
Purdue OL vs. Notre Dame DL: Purdue will have more trouble when it comes to running the ball with the poor average per rush (107th overall). Pass blocking could be an area they fare better in as the Irish have 2 sacks this season. The Irish have been able to get quarterback pressure with 12 quarterback hurries and also have 10 tackles for loss this season.
Edge: Notre Dame
Notre Dame DL: Louis Nix III has a defensive line-leading 5 tackles and 1 tackle for loss. Nix did well against the Michigan offensive line. Stephon Tuitt added another touchdown to his career with an interception in the endzone on what originally might have been a safety had Devin Gardner not tried to throw the ball away. Tuitt now has a fumble recovery touchdown and an interception touchdown for his career. He also has 3 tackles, 1 sack, 1 tackle for loss, and 2 quarterback hurries this season. Sheldon Day and Issac Rochell have 3 tackles each so far.
Notre Dame DL vs. Purdue OL: The Irish need to constantly put pressure on Purdue's offensive line so that they can stuff the run game and force Purdue into turnovers. The Irish have a great edge on containing the run game in particular.
Edge: Notre Dame
Purdue DL: One of the best strengths of Purdue is in the defensive line, despite the loss of Kawann Short, who was a 2nd round draft pick, 2nd team All-American, and 2-time first-team All-Big 10. Bruce Gaston might be the best player on the line and possibly the defense and he leads the team in tackles with 12 and has 3.5 tackles for loss (team-leading) and 2 sacks. Like the offensive line, it has quite a few seniors starting on it. Greg Latta has 9 tackles, 0.5 tackles for loss, and 2 pass breakups. Ryan Russell has 8 tackles, 2 tackles for loss, and 2 sacks. Jalani Phillips has 3 tackles, 2 tackles for loss, 2 sacks and a pass breakup. Ryan Issac has 2 tackles and 1 interception.
Purdue DL vs. Notre Dame OL: This is one of the biggest matchups in the game. All 6 of Purdue's sacks have come from defensive linemen and it is a unit that has quite a few seniors on it. Notre Dame needs to keep Tommy Rees protected and give him opportunity to pass. Preventing Purdue from getting into the backfield is key for the Irish. If the offensive line can handle Purdue's front four, then everything else will be significantly more easy.

Edge: Even
Notre Dame LB's: Starting inside linebackers Dan Fox and Carlo Calabrese are the top 2 tacklers for the Irish and they have 20 and 14 respectively, and they both have 2 tackles for loss as well. Jarrett Grace has done quite well and could potentially be starting over one of them by the season's end. Grace has 10 tackles and 1 tackle for loss. Prince Shembo has 6 tackles and 6 quarterback hurries this season and Jaylon Smith has 6 tackles as well with a pass breakup. Ishaq Williams had his first career sack against Michigan and has 4 tackles as well.
Notre Dame LB's vs. Purdue: The Irish face one of the worst rushing offenses in Purdue who are 104th overall in the nation. While the inside linebacker play outside of Jarrett Grace hasn't been as great with the loss of Manti Te'o, this is an opportunity to improve.
Edge: Notre Dame
Purdue LB's: Sean Robinson leads the linebackers in tackles with 9 tackles and 1 pass breakup. Joe Gilliam has 8 tackles and 2 pass breakups. Will Lucas has 6 tackles and 1 pass breakup and Armstead Williams has 3 tackles. This unit also has quite a few upperclassmen in it as well.
Purdue LB's vs. Notre Dame: The Boilermakers have quite a bit to handle in a deep running game that the Irish have and Troy Niklas who has been quite impressive for the Irish so far this season. Purdue has an upperclassmen-heavy unit at linebacker, but the Irish could easily be a major challenge for them.
Edge: Notre Dame
Notre Dame DB's: The secondary has been a step down for the Irish this season as they are 89th in the nation in pass defense and have allowed 261 yards per game and 4 passing touchdowns. This is a prime opportunity to improve against a Purdue unit that doesn't have many top players in the receiving unit and inconsistent quarterback play. The defensive backs haven't deflected many passes with only 3 (4 overall if the entire defense is factored in).
Notre Dame DB's vs. Purdue WR's: The loss of Gabe Holmes is a big one for the Boilermakers, but the defensive backs for the Irish must be consistent and improve on their play against Michigan last week. Preventing big chunk plays and short gains turning into long ones is as important as preventing the deep ball here.
Edge: Notre Dame
Purdue DB's: The most important play in the Boilermakers secondary is senior cornerback Ricardo Allen. Allen will likely be lined up opposite of TJ Jones and that will be a big matchup to watch. On the season, Allen has 7 tackles and 1 interception this season so far. The other important player is Landon Feichter who had 4 interceptions last season and this season has 8 tackles. Frankie Williams accounts for 1 other interception made by the defensive backs.
Purdue DB's vs. Notre Dame WR's: Ricardo Allen vs. TJ Jones will be major matchup here, but the Purdue secondary has to also account for DaVaris Daniels and Chris Brown as well. If Tommy Rees spreads it around and avoids turnovers, then the Irish will win big in this area.
Edge: Notre Dame
Notre Dame Kicking Game: Kyle Brindza really improved between game 1 and game 2. After missing 2 field goals against Temple, he hit all 3 attempts with 2 of the 3 being for 40 or more yards. He did better at punting and has a 40.9 yard average with a long of 47, 2 touchbacks, 2 fair caught, and 2 inside the 20. Brindza also has a 64.3 yard kickoff average and has 6 touchbacks on 12 kickoffs.
Purdue Kicking Game: Paul Griggs has made 2 of 4 field goals, but is 2 of 2 after starting out 0-2. Cody Webster has a 49.9 yard average and a long punt of 73 yards and has been able to pin it deep with 4 touchbacks and 3 punts of 50 or more yards. Thomas Meadows is the kickoff specialist and has a 64.3 yard average and has 1 touchback on 7 punts.
Stronger Unit: Even
Notre Dame Return Game: George Atkinson III has returned 4 kickoffs for 116 yards and a 29 yard average and has a long of 50 yards on a return. Punt returns have already looked better than the previous season with TJ Jones returning 4 punts for 41 yards and a long of 18.
Purdue Return Game: Akeem Hunt has 3 returns for 143 yards and an impressive 47.7 yard average and a return for a touchdown. Frankie Williams has 1 punt return for 14 yards.
Stronger Unit: Purdue
Everything Else: The Irish are coming in off a loss at Michigan and Purdue is coming in off a close win over Division 1-AA Indiana State. The Irish are considerably stronger at numerous positions over the Boilermakers. The big thing is to limit turnovers on offense, establish the run and to try and contain the front four of Purdue. Look for more balanced showing on offense and opportunities for younger players such as Greg Bryant, Tarean Folston and other freshmen to get playing time.
Prediction: Notre Dame 35, Purdue 6